Waroeng Baru merupakan kolektif yang memperjuangkan masyarakat mandiri, bermaruah, dan bermartabat, dan kami perlukan sokongan anda.
Selain podcast dan tulisan di laman ini, kami juga menghasilkan pelbagai penerbitan yang boleh dibeli melalui pautan-pautan di bawah.
Setiap pembelian anda akan membantu kami lanjutkan usaha membina media bebas, mandiri dan berkualiti.
Terima kasih!
[Baru!] Triple-flavoured Fish, sebuah buku foto oleh Badrul Hisham Ismail dan Khairil Makata.
"We want people to be able to see us from afar." Ironic, given the fact that most of them — the owners and workers — want to stay invisible.

This photobook is a tribute to Tom Yam restaurants, known locally as 'kedai Tom Yam', which have been a part of the Malaysian landscape for decades, serving delicious food for the locals while at the same time a place of refuge for people fleeing from violence.

Badrul Hisham Ismail
Dapatkan di Yezza
Svara #10
Sebuah penerbitan berkala di Malaysia yang memberi tumpuan kepada perihal budaya. Diterbitkan empat kali setahun, isu ke-10 ini sebahagiannya menghimpunkan esei-esei panjang, cerpen dan sajak daripada pelbagai penulis meliputi hal-hal berkaitan kritik sastera, filem, muzik, wawancara dan lain-lain.
Menghiasi kulit depan Svara #10 ialah satu daripada gambar dari foto esei Continuum oleh KG Krishnan, yang dimuatkan di dalam. Dan, ini memberi petunjuk kepada tumpuan yang ingin diberikan kali, baik dari sudut kandungan perbincangannya mahupun tampilan, iaitu unsur grafik dan visual.
Antara lain, isu kali ini juga memuatkan catatan Fasyali Fadzly tentang almarhum Jit Murad, diiringi oleh set fotografi sosok berkenaan oleh Bernice Chauly, yang sebahagian besarnya belum pernah diterbitkan. Tidak lupa kisah almarhum Malim Ghozali PK dan anugerah sasterawan negara yang tidak kesampaian, serta beberapa siri tulisan berkaitan seni dan ruang.
Dapatkan di Yezza
Parliament, Unexpected, oleh Ariff Yusof dan Lutfi Hakim Ariff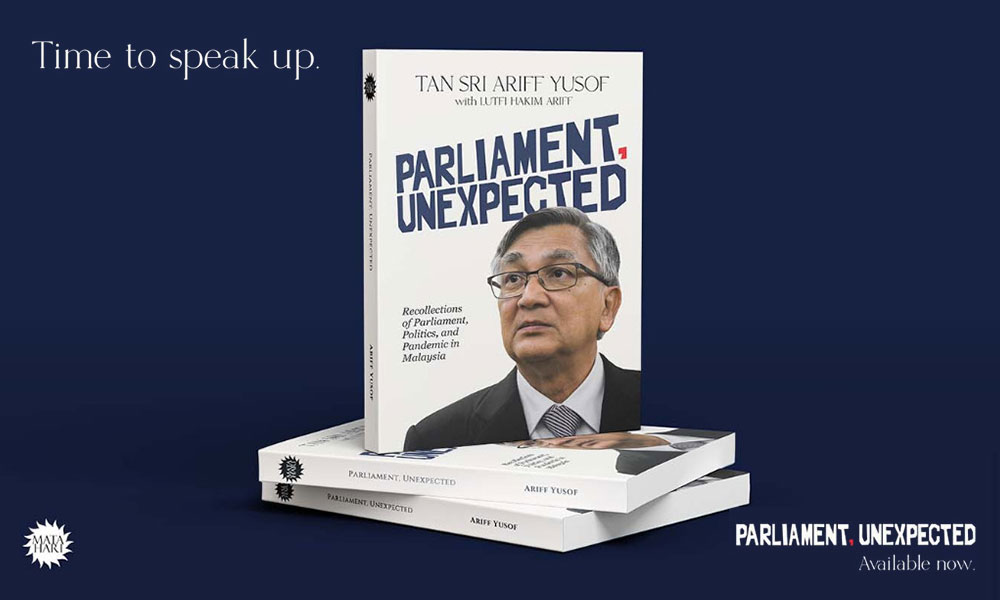 In this brief recollection of his short tenure as the Dewan Rakyat Speaker, Tan Sri Ariff Yusof, reveals his side of the story, by dissecting the events and procedures of Parliament while providing an insider's view of the unprecedented political developments that led to the fall of the Pakatan Harapan government in 2020 and his eventual removal. Meanwhile, a global pandemic starts to rage and met with faltering response from the government, and a suspension of Parliament.
Can we expect change to come from the Parliament, in the current order of things? Is there political interest to find new ground to move beyond race and religion? Can a Speaker alone change how things are done, independent of the other branches of government?
'Parliament, Unexpected' brings readers through an autobiographical journey to understand the sources of our political dysfunction, and what needs to be done to reset and retell the Malaysian story for a fairer, kinder and more equitable tanah air for all.
Dapatkan di Shopee